Weapon Cache is a building of the Gerudo used to research military upgrades.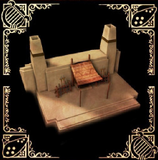 Description
Dotted throughout the Gerudo Desert are caches full of weaponry. Armies are never short of supply, and can easily replace broken or lost weaponry at these hidden locations.
Research
Gerudo Curvature:

File:GerudoCurvature.png

The curved blades of the Gerudo are some of the finest in Hyrule, excellent for slashing. +20% Melee infantry attack.
Devalant-Style Blades:

File:DevalantStyleBlades.png

Blades forged with and molded on Devalant pincers result in wicked slashing curves. +20% Melee infantry attack.
Leever Tooth Bodkins:

File:LeeverToothBodkins.png

Small and light, yet durable and sharp - perfect for arrowheads. +20% Ranged infantry attack.
Hrok-Plummed Arrows: Hrok feathers are popular fletching among Gerudo archers. +20% Ranged infantry attack.
Moonlight Blades:

File:MoonlightBlades.png

Crafter in the deepest deserts on the darkest nights, these blades possess deadly speed. +30% Melee cavalry attack.
Community content is available under
CC-BY-SA
unless otherwise noted.