Tourney Fields are a building used by Gerudo that researches cavalry upgrades.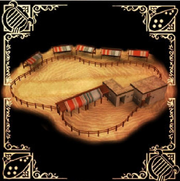 Description
These dedicated arenas host all sorts of horseback tournaments, from jousting to horse archery to outright mounted scimitar combat. Many come to watch and place bets, and those who participate leave with more battle experience.
Research
Tourney Wounds:

File:TourneyWounds.png

Battles in the Tourney ring may wound many mounts, but it makes them all the stronger. Cavalry gain +25% health.
Sparring Spectacles:

File:SparringSpectacles.png

Participating in public battles against other cavalry greatly aids the training of young Gerudo riders. -15% Batch Build time for all cavalry.
Tourney Bets:

File:TourneyBets.png

Rupee bets from the Tourney can be put to good use in funding the training of new cavalry. Cavalry are -10% cheaper to train.
Community content is available under
CC-BY-SA
unless otherwise noted.