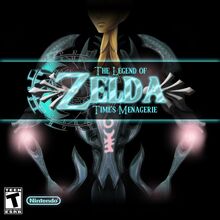 The Legend of Zelda: Time's Menagerie was the second Legend of Zelda fan game created by Chasen Lindsey and released on November 17, 2010. It was the third chronological game of the trilogy, following the events of The Fallen Sage. The game is no longer available for download.
Plot
Time's Menagerie contains many plot elements and characters that would later be reused in Hyrule: Total War, notably the latter portion of The Return of Sulkaris, Manifest Destiny, and A Tale of Two Swords arcs. Many of the original characters later seen in Hyrule: Total War were first introduced in this game, including:
Gameplay
As opposed to the final game in the trilogy and Hyrule: Total War, Time's Menagerie, was, like The Fallen Sage, an RPG (Role-Playing Game) made using the RPG-Maker Engine. The game combined turn-based party combat with exploration presented with a 2-D topdown view, much like the classic Legend of Zelda games.
Reception
Time's Menagerie was better received than its predecessor, The Fallen Sage, with its improved combat animations and art style being the subject of the most positive attention. The game retained many of the criticisms of the previous installment, including its darker take on the Legend of Zelda universe.