Sumos
are unarmed, hulking but fast (for their size)
Goron
heavy infantry.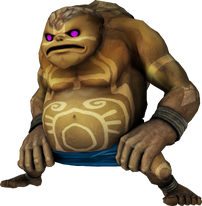 Description
Champions of the Gorons' favourite sport of wrestling, Sumos are giant hulking beasts that can bring their skill to the frontlines of battle. Unexpectedly swift for their huge size, they can catch enemies off guard with all manners of parries and grapples.
Community content is available under
CC-BY-SA
unless otherwise noted.