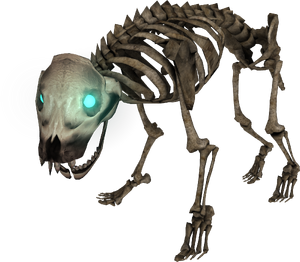 Stalhounds
are
Stalfos
dog-like skeletal animals.
Description
Stalhounds were the animated, and sometimes grafted corpses of animals. They were created with the intent of giving Stalfos armies an element of speed, and indeed a Stalhound could muster itself into a charge before violently ripping out the throats of their targets.
Role
Attributes
| Name | Description |
| --- | --- |
| Swift | Can move faster than other units of the same type and size |
| Beast | Damages morale of all non-beast units |
| Impetuous | Strong morale, may charge without orders |
| No Fear | Cannot lose morale and retreat |
Recruitment
Community content is available under
CC-BY-SA
unless otherwise noted.