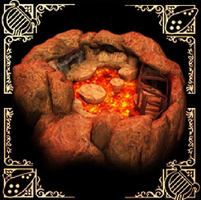 Salamander Den is a military building of the Gorons. It can be used to recruit their three Salamander units.
Description
The reptilian Salamanders have long dwelled underground, rarely coming to the surface unless provoked. Gorons have tamed the beats for variety of uses, in particular as war beasts.
Research
Heated Cutches:

Placing Salamander nests near volcanic vents speeds the hatching of their young. -15% Batch build time for Salamanders.
Wagon Brace:

File:WagonBrace.png

Adding metal bracing to a wagon's structure offers more protection for its passengers. Slamander Wagons gain +25% health and garrisoned units are 25% more resistant to damage.
Bomb Flower Juice Diet:

File:BombFlowerJuiceDiet.png

Salamander Warbeasts are regularly fed volatile Bomb Flower juice to increase the potency of their fire breath. Salamander Warbeasts now deal splash damage.
Community content is available under
CC-BY-SA
unless otherwise noted.