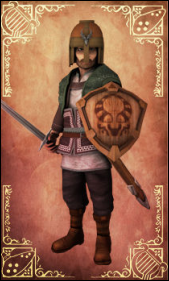 Militia
are the defensive infantry unit of
Ordona Province
.
History
Militia were designated civilians drafted or volunteered into military service during wartime. Often they had basic military training, and while some had state-crafted armor and swords just as many brought their own handmade weapons and shields to battle.
Role
Attributes
| Name | Description |
| --- | --- |
| Garrison | Unit upkeep is free when stationed at city |
| Wood Shield | Resistant to arrow fire |
| Hardy | Tires more slowly regardless of environmental and combat conditions |
Community content is available under
CC-BY-SA
unless otherwise noted.