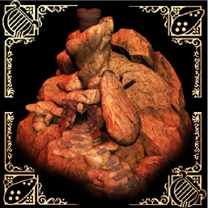 Lava Smithy is a Goron military building used to research upgrades.
Description
The mighty Megaton Hammers and other powerful weaponry are a closely guarded Goron secret. These forges are set up deep in the caverns of Death Mountain to craft and create the prized possesions of Goron Warriors.
Research
Lava-Seared Weaponry:

It is a common Goron practice to temper their weapons in searing lava. All melee infantry gain a 25% increase in damage.
Magma-Soaked Hide:

File:MagmaSoakedHide.png

When exposed to Magma, Dodongo hide hardens to be as tough as stone. +2 non magic armor for all units.
Community content is available under
CC-BY-SA
unless otherwise noted.