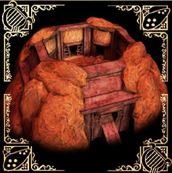 Hall of Brotherhood is the civic center of the Gorons.
Description
Often built at the heart of Gorons cities, Halls of Brotherhood serve as a town center and gathering points for outsiders whom enter Gorons lands.
Research
Power Bracelets:

These golden bracelets are said to magically increase the strength of the weared. +50% Attack damage and range for Guardians and Rock Tossers.
Hearty Hides:

File:HeartyHides.png

Available only to Daruk. Meditation and drink makes a heartier breed of Goron. +10% Health for all Goron units.
Community content is available under
CC-BY-SA
unless otherwise noted.