Gerudo Training Grounds are a Gerudo building, used to recruit elite units such as Tomb Guard, Ice Archers, Ashinon Captains and Golden Gladiators.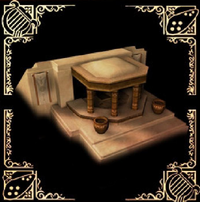 Description
A dangerous and grueling obstacle course, the Gerudo Training Grounds is a test to find the best of the best. Those that complete the challenge are awarded with the legendary Ice Arrows or other treasures for battle. Those that fail come out the other end harder and with more experience... Assuming they don't die in the process.
Research
Community content is available under
CC-BY-SA
unless otherwise noted.