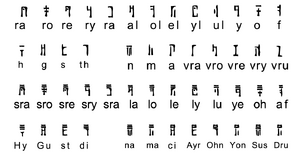 Akkalan, later known as Sheikah, is the language spoken by the Akkalans. In modern times it is primarily use as a secret internal language by the Sheikah.
History
Akkalan developed from the the language of the Arcadians, itself a descendant of the languages of the Cobble and Lokomo refugees who settled the land after the destruction of their homelands.
Akkalan branched off from the Arcadian language as tribes travelled into the rest of Hyrule, eventually setting in what would be known as Holodrum and Lanayru Province. Through contact and alliances with peoples including the Huskus,  Picori, the Wizzrobes and the Wind Tribe, it had become the lingua franca of the Ancient Age, strongly influencing and being influenced by High Zoran. The Akkalan vernacular eventually evolved into Hylian, Gerudo, Labrynnian, Horonian, and Twili, but a standard form survives as the secret language of the Sheikah and Hylian nobility and clergy, mostly used for poetry and religious scripture.
Words
Nouns
Concepts, Emotions and Experiences
Solayr - Justice
Dimohci - Time
Acia - Grace, Beauty
Vralo - Wind, Spirit, Breath
Athryel - Power
Srathdi - Mind
Mareth - Fear
Mauldi - Malice
Vraul - Sin
Dithle - Nightmare
Ahndi - Awakening (abstract)
Lidi - Goddesses, Divine
Ciayrdru - Chaos
Gundru - Order
Lidi'athas - "Divine Ladder"
Thethra - Future
Lyvryn - Love (abstract)
Hyo - Love (romantic)
Ciondi - Youth
Lof - Sound
Loohn - Echo
Vrysro - Melody, Music
Vryfayr - Song
Manseth - Magic
Madi - Mask
Ora - Truth
Lana - Joy
Cianya - Light
Maleth - Abomination
Raayr - Fate
Sogona - Legend
Lumos - Great (abstract)
Time Phrases
Drunna - Twilight
Ahnna - Dawn
Omel - Morning
Drumel - Evening
Roga - Noon
Vruroga - Afternoon, Later
Sdina - Day
Nathvru - Night
Roles & Occupations
Udina - Person
Maldi - Man
Seludi - Woman
Srayra - Knights
Selhyro – Queen
Malhyro - King
Ralodi - Sage
Vraolodi - First Sage
Ciaayr - Heir
Vrylon - Lord
Selohn - Princess
Malohn - Prince
Hycion - Child
Amnadi - Adult
Vraos - Elder
Lodiora - Judge
Mahra - Priest, Priestess
Thraman - Defender
Threman - Champion (of)
Throndi - Warrior
Lodivro - Master
Ohfo - Fool
Edruhy - Mage
Mahn - Lady
Mahndi - Maiden
Myesdi - Saviour
Mrethrayr - God, Goddess
Nomre - Slave
Nomoro - Tyrant
Selgurath - Suppressor
Malmorudi - Fate Keeper
Arys - Gardener, Grower, Caretaker
Rahla - Chaser
Ymtha - Watcher
Raayrdru - Destined One, One Given the Fate
Family
Orely - Family
Maro - Father
Maroth - Honored Father (formal)
Lya - Mother
Lyalu - Honored Mother (formal)
Ralys - Brother
Ryly - Sister
Malhycion - Son (formal)
Malhy - Son (informal)
Lyhycion - Daughter (formal)
Lyci - Daughter (informal)
Objects & Places
Dominion of Man
Orethvru - Temple, Place of Worship
Ciore - Castle
Hyron - Kingdom, Hyrule
Rycicio - Settlement
Ciovro - Village
Hathyeno - Community
Loohye - Place
Ulyon - House, Home
Aromos - Statue, Golem
Dima - Manor
Sthodi - Sword
Gunaci - Shield
Yoma - Food
Omyom - Breakfast
Vruyom - Dinner, Late Meal
Lon - Livestock, Cattle
Ciaro - Road, Pass, Trail
Dominion of Nature
Sulcion - Seeds, Life
Lyn - Tomb, Crypt, Grave, End
Mrohry - Forest
Mroh - Tree
Oredio - Field
Aryol - Hill
Therendio - Mountain
Asusthero - Volcano
Luaf - Grass
Alhylye - Flower
Thod - Bird
Hytho - Owl
Srylyth - Fairy
Sroryl - River
Macilu - Lake
Loth - Ocean, Sea
Gurediro - Sands
Guma - Beast
Gumos - Wolf
Luohna - Meadow
Ayrof - Gold
Svrohlu - Silver
Sryla - Jewel
Luhm - Gem
Ayros - Star
Mohlya - Moon
Vrona - Sky
Lyna - Horizon
Saohna - Sun
Days of the Week
Ciycilos'dina - Sunday
Faronsdina - Monday
Eldinsdina - Tuesday
Lanaryvrusdina - Wednesday
Malanyasdina - Thursday
Latoansdina - Friday
Syefos'dina - Saturday
Months
Cianyaahnna
Amndimochi
Sulcionsryo
Saohnaymfas
Saohnathal
Rusuldimochi
Ohandimochi
Sryogudi
Vrolgudi
Gusragudi
Gusramether
Numbers
Dis - One
Elo - Two
Lun - Three
Yon - Four
Gua - Five
Vran - Six
Luye - Seven
Alol - Eight
Suoh - Nine
Malo - Ten
Malodis - Eleven
Maloelo - Twelve
Malolun - Thirteen
Maloyon - Fourteen
Malogua - Fifteen
Malovran - Sixteen
Maloluye - Seventeen
Maloalol - Eighteen
Malosuoh - Nineteen
Elomal - Twenty
Lunmal - Thirty
Yonmal - Forty
Guamal - Fifty
Vranmal - Sixty
Luyemal - Seventy
Alolmal - Eighty
Suohmal - Ninety
Dismalo - Hundred
Elomalo - Two hundred
Lunmalo - Three hundred
Yonmalo - Four hundred
Guamalo - Five hundred
Vranmalo - Six hundred
Luyemalo - Seven hundred
Alolmalo - Eight hundred
Suohmalo - Nine hundred
Dihya - One thousand
Pronouns
Ay - Me
Eci - You
On - Us
Mal(u) - He
Sel(u) - She
Elth - We
Ore - They (Family)
Olre - They (Others)
Descriptive
Mafr - Forever, Eternal
Asus - Burning, Smouldering
Malciciayr - Flowing With, Moving With
Ylvrala - Weeping, Sad, Crying
Ciovrala - Free, Unrestricted
Nama - Secret
Dvruthvru - Not of, Unlike, Different
Hy - Prefix, signifies something inherently good
Hyro - Important
Lodi - Wise
Setheh - Great
Orelidi - Divine
Recieth - Undead
Lucieth - Dead
Stalfos - Of Bones, "Skeletons"
Gurediros - Of Sands
Gudiraayr - Unholy
Gudiludi - Sacred
Vrandime - Bright
Mether - High
Adrusthl - Not Anymore
Regre - Opressed
Stan - Once
Rye - Brave
Sothlere - Betrayed
Fovra - No Longer, Never
Vrygas - Shaded, In The Shadow Of
Colours
Susoh - Blue
Oreaf - Green
Digun - Red
Hyore - Purple
Afel - Yellow
Sregu - Grey
Mulh - Brown
Acim - Black
Lyael - White
Verbs
Ayro - Come
Ayrth - To Do
Fohs - Has Come, Came, Did Come
Yos - Am, Are, Is
Thrul - Was, Were, Had Been
Strathye - Think
Lucidiu - Hunt
Lofayr - Speak
Amn - Rise
Afra - All
Mo - Have/Has
Prepositional
Myenal - Above
Guthadi - Everywhere
Cidi - From
Phrases
Vralry - Hail
Vryalre - Bow Before
Nemron - Save Us, Help Us
Srom - Please
Thal - No
Lom - Yes
Functional
Le - Signifies a question (?)
Dru - Something that is evident
O - Of, Possessive
Thre - For
Nah - What
Adi - Where
Se - So, Like